The contributions of the Founding Members of Tierra de Budas will be used to cover the financing costs of the initial establishment of Tierra de Budas and may be carried out in accordance with the following conditions.
The Founding Member of Tierra de Budas will contribute a minimum monthly fee of € 100 for at least 3 years.
Besides the incredible positive karma generated by your participation in this project, becoming a Founding Member of Tierra de Budas also has other benefits such as: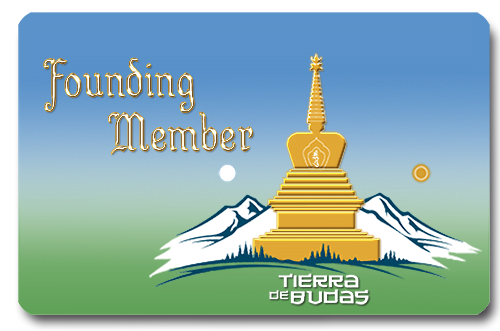 Your name will be inscribed in the interior of the first stupa built in Tierra de Budas.
You will receive periodic information, on the progress of the project, by email.
You will be able to sign up for activities that take place in Tierra de Budas, during the priority registration periods, and you will enjoy special discounts.
You will be invited to the annual Losar celebration and you will be included in a special puja for the Founder Members to be held on the most auspicious days of the beginning of the Tibetan New Year.
You will have access to the Manjushri library, and its specialized Buddhist texts.
 If you want to become a Founding Member, fill out this form.